Favorite color combo:
Cake
from a Mint & Peach wedding pinboard
Seriously, how pretty does this look? I find myself really drawn to pastels, particularly minty green, this summer. I must be going soft. :-)
Favorite party food:
4th of July
Salsa
I've never had jicama - I think it's time I try it out. And blueberries are just about my favorite thing on the planet right now. Did you know they're supposed to help you lose belly fat? Cool!
Favorite bit of wildness:
temporary tattoo
If I were going to get one, it'd be a ship. This is pretty awesome.
Favorite funny:
my man
Ludwig
He's right, you know. A man before his time.
Favorite sweet:
Monster
Cookie Bars
Oh my gosh! I need to make these ASAP.
Favorite refresher:
margarita fruit dip
Sounds too yummy for words. Gotta get some strawberries and try this out.
Favorite cutie pie:
Awww! From photosbynatalie.com
Favorite doggie treat
:
Pupcakes
I know each and every one of my dogs has a sweet tooth. This is a great way to indulge them without giving them something that could be harmful.
Favorite new possession:
Nico
from shoedazzle.com
I love these! They're cute and comfy at the same time - a rare find in shoes these days (for me, at least).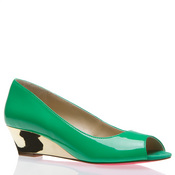 Favorite parting thought:
Satan's weather
We've had 100+ temps for the past three days. And there's no end in sight. C'mon, Satan, get this weather behind me!!
Enjoy your weekend, everyone. Keep cool and carry on...
Chris